Australian Chamber of Commerce & Industry New Membership Website Launched
The Australian Chamber of Commerce & Industry represents over 300,000 businesses and needed a member management system to handle their vast range of services. ACCI received a TV portfolio and a comprehensive content management system to allow greater control and management over their website content. ACCI is Member Evolution's first responsive association membership website designed for tablets and smartphones, to cater for their evolving customer needs.
The Australian Chamber of Commerce & Industry strives to make Australia a great place to do business. ACCI represents over 300,000 businesses of all sizes, across all industries across the country. They speak on behalf of the business sector to government and the community, fostering a culture of enterprise and supporting policies that keep Australia competitive.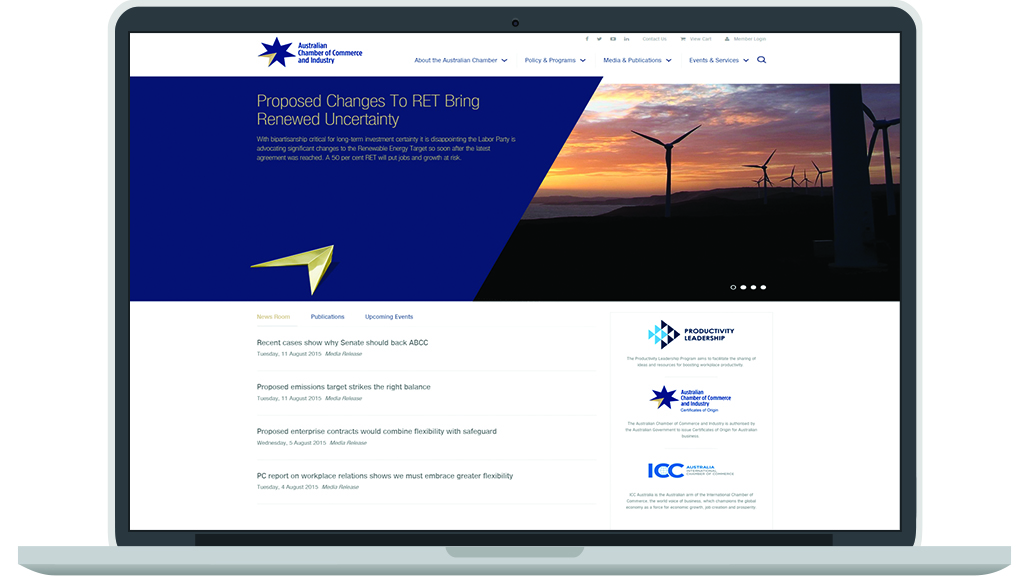 The ACCI needed a membership management system that could support their vast range of activities and services provided. ACCI required a responsive association membership management website to cater for their evolving customers who are on the go using their smartphones and tablets.
ACCI's member management software has a number of unique sections on the website including;
International networks
ICC Australia
Chamber members
Business leaders council
Business leaders
Economic surveys
Australian Chamber radio and TV
Speeches
Trade law support service
Member Evolution was able to tailor the solution to cater especially for the needs of the staff and members at ACCI. Face-to-face training sessions and our online training guide was able to get the staff at ACCI up to speed quickly with how each component works within the membership system. The staff were then easily able to start the content transfer from the old site to the new one.
Member Evolution is extremely proud of the ACCI solution and believes it is one of the best so far. Each client brings new challenges to the team and through this our product continues to evolve and stay competitive and innovative.